Traks Bar & Grill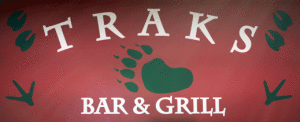 Traks Bar & Grill
"Our mission at Traks Bar & Grill is to provide our patrons with quality food,
friendly service & cleanliness that will exceed your expectations!"
Come and visit us today, we have plenty of things to keep you entertained!
Pull Tabs
6 Club Keno screens
All the best sporting events in HD on 7 flat screen T.V.'s
2 great pool tables
Online jukebox with over 1 million songs
Great food
Excellent service
Outstanding atmosphere
Hours: Mon-Wed 11a.m.- 10p.m. | Thur-Sat 11a.m.- 11p.m. | Sun 11a.m.- 9p.m.
Check out Traks Bar & Grill's menu.  Call in or fax your order.  We accept most major credit cards.