Most of you are familiar with the Manistee County Sport Fishing Association and the events we sponsor as well as the projects we promote. Your membership to the association is a vital part of our continued success and we invite you to once again become a member. With your support we can continue to make a difference in the goal of maintaining and promoting a healthy fishery in Manistee County by:
Establishing the economic contribution of the Sport Fishery to the Manistee area economy.
Developing a liaison with State & Federal fishery management agencies to insure the maintenance and the growth of the local sport fishery.
Cooperating with local and State tourism organizations to develop an action plan to promote and market Manistee area sport fishing.
Acting as a mechanism of education and information between area Sport Fisherman and business members.
Insuring adequate financing to accomplish the aforementioned goals and other objectives of the association.
We would like to share with you some of the accomplishments that have been made possible with the help of your contributions: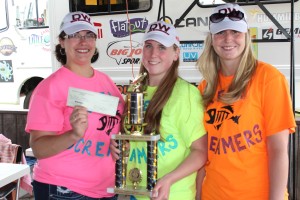 The annual June fishing tournament gives our member the opportunity to test their skills against each other and Lake Michigan.  2014 marked the 25th anniversary of this great event.  The Budweiser Pro/Am, Ladies Classic Pro/Am and Tournament Trails 333 have proved to be a fun and sometimes profitable way to spend a few days in Manistee County.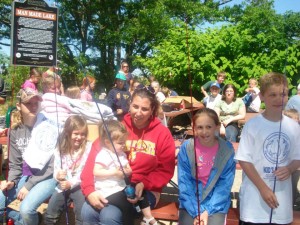 The annual Kid's Fish Day tournament which is held in Manistee at Man-made Lake. This event has continued to grow over the years.  Local sponsors have helped and now we see several hundred children participate each year. We give each child a t-shirt for participating and prizes consisting of a new rod & reel and tackle box go to the top five winners in each division. The association also made contributions to help save Man-made Lake when its existence was challenged by a new development project.
Each spring we operate a Net Pen Project on the Manistee River channel.  This project has been in existence since the late 80's and continues to be successful to this day. The salmon that are raised in these pens are some of the healthiest fish in the state as commented by the Michigan DNR. Net pen salmon have a 20- 50% higher survival rate than direct release plants. This project has been made possible with the help of countless volunteers and local businesses.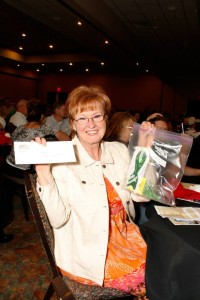 Each spring we hold out annual membership and kick off banquet. This banquet along with our Gun/Charter raffle ensures the financial stability of your association. The in house raffle is always a big hit.  This is made possible by contributions from our local and sponsors and fishing product manufacturer.

Your membership enters you in the summer long salmon derby. Three separate time periods allows for many winners as well as big fish prizes for the entire season. This event pays out over $5000 each year to our members.

Members of the MCSFA Board of Directors continue to represent the association at meetings on issues such as harbor dredging and tribal netting concerns.

Since 2001 we have made an annual donation to the Conservation Resource Alliance to aid in their efforts toward stream restoration in Manistee County. We also have made annual donations to the Bear Creek Watershed to help in their efforts of stream and river restoration.